While the 3DS fumbled out of the gate in 2011, now it sits as one of the best systems money can buy. Which one do you go with though? Each system has it's strengths and weaknesses, so lets take a look at each so you can make the right choice for you, your child, or whoever is in need of a fine handheld gaming system.
Nintendo 3DS
The original design that the system launched with, this model is the smallest of the 3, it lends itself to those who just want to slide the system into their pocket and take it with them anywhere. The battery life is shortest of the 3 systems, with (personal) average charge of 4-6 hours, depending on if you have the 3D on or not. I found it a little uncomfortable to hold, due to the slightly raised edges. This is a personal note though, and you shouldn't have any trouble finding display models at most stores that sell them, and can try them for yourself.
Color variations: Cosmo Black, Midnight Purple, and Pearl Pink. There are red and blue variants, but they're discontinued, and you may have trouble finding them new.
Nintendo 3DS XL (right)
The largest of the 3 systems, it can be hard to take with you, without a backpack or purse. Perfect for the people who love a handheld, or want to play the games, but don't take the system outside the house often. This system boasts the longest battery life of the 3, a charge lasting on average (personal experience again) about 5-10 hours, with the 3D causing a quicker drain.
Colors include: Red/Black, Blue/Black, Black, Pink/White, and a special edition golden unit that comes with Legend of Zelda: A link between worlds. There are also a Blue/Black and Red/Black variants with a pokemon theme, based off the new X/Y games.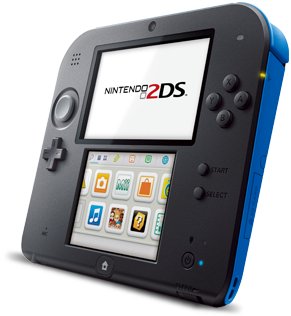 Nintendo 2DS
The newest 3DS, it is also the most confusing. This version of the hardware is a budget unit, dropping the 3D functionality, but it CAN still play 3DS and DS games. Its size is very comparable to the classic 3DS, though it does not have a clamshell design, so it is overall bulkier, and has little to protect it's screens.
Colors Include: red/black, blue/black.
Also thanks, to Nintendo of Europe, we have this nifty little comparison guide.
My personal recommendation of the 3 would be the XL, going from an older DS or DS Lite, or even a current 3DS, the size is huge difference, and it is very comfortable to hold, especially for those with larger hands. Any of the 3 are solid choices though, and the prices may end up being you deciding factor.
The Games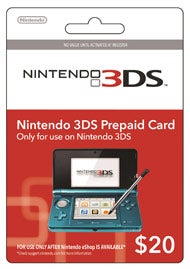 I'll get this one out of the way, if you aren't sure what games someone has, or what they like, and e-shop gift card will let them get what they want, and download it at home. A wi-fi connection will be needed for the eshop though.
New Super Mario 3D Land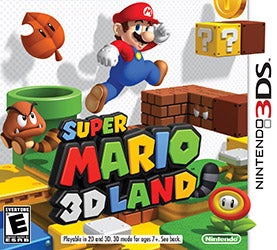 A Mario game goes with a nintendo system like peanut butter goes with jelly. Super Mario 3D Land is the newest game for the 3DS, and is an absolute joy to play, perfect for the young new gamer up to the gaming veteran who has played ever mario game since 1987.
Pokemon X/Y
I can't recommend the newest pokemon enough, it is possibly the best Pokemon game made to date, though more time will tell for certain. For those who don't know about pokemon, the series is about collecting and battling a wide variety of wild monsters, called pokemon. The gameplay is a turned based RPG, catching pokemon and training them to be the best, like no one ever was.