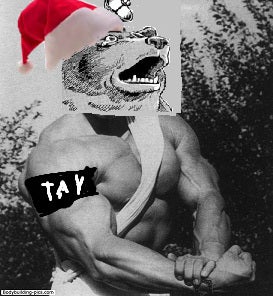 I'm a simple fellow, you lucked out getting me.
Franchises I like: Megaman, Pokemon, Kingdom Hearts, "Tales of", Final Fantasy, just about any JRPG.
Genres: RPGs of any kind, anything with fun co-op.
Systems I own: SNES, N64, GCN, Wii, Wii U, PS1, PS2, PS3, 360, PC/Steam, 3DS, PSP.
Stuff I like/collect:
SURPRISES!
Old games from any system,
strategy guides to video games (got a 400 pound box of guides),
books/graphic novels (I like mostly fantasy, I almost never read anymore unless someone buys me a book or keeps dogging me to read a series, and then I usually go nuts and read the whole series like a madman.),
any video game stuff (toys/figures/replicas,etc),
Shirt size: XL, though holiday season I usually tend to be more comfortable in a 2XL.